Phoenix Company Does Much More than Just Routine Mobile Auto Detailing
March 23, 2023 at 23:13
Phoenix, Arizona -
Paul Bagorio, the owner of D.I. Auto Care in Phoenix, Arizona, admits that a large chunk of his business is customers that schedule routine exterior and interior mobile detailing services with him. However, the company owner wants those in Tempe, Chandler, Mesa, and the other Greater Phoenix areas that he serves to know that his business does much more than just that. He stated that his company also takes great pride in providing reputable detailing Phoenix services for special occasions, as gifts, after unusual driving circumstances cause urgent detailing needs, and more.
Bagorio says, "It would take me all day to go over the types of special requests that we get for our auto detailing and window tinting services. That's why I would prefer to just say that there are very few reasons that I would ever say no to a customer's request for these tasks. So, no matter how unusual a customer thinks their auto detailing or window tinting request might be, we urge them to at least give us a call and discuss that detailing request with us. Chances are they will then find themselves on our car mobile detailing schedule."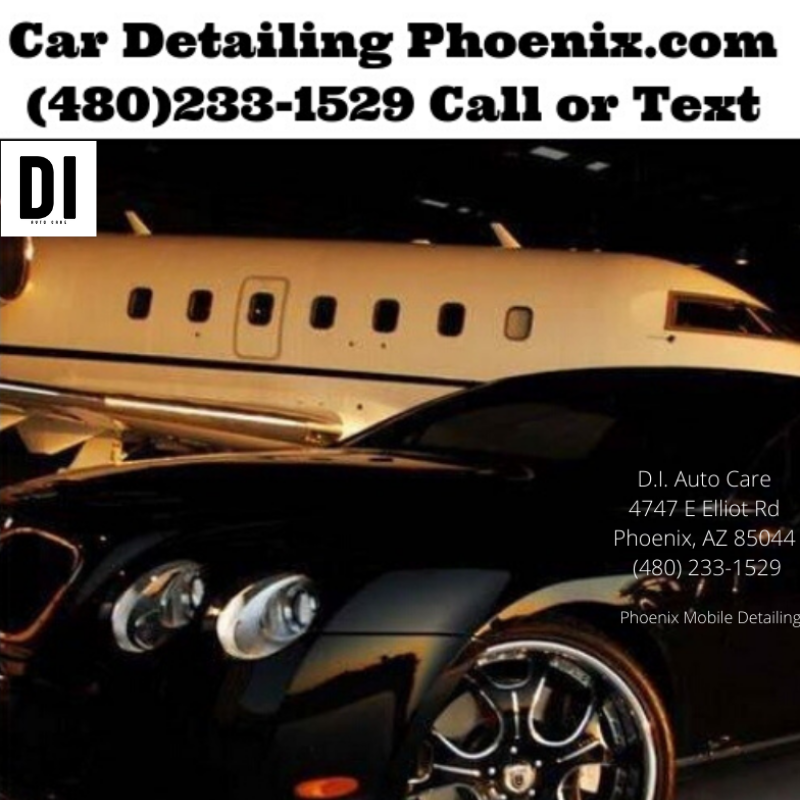 The company owner pointed to several reviews as examples of some of the less frequent types of auto detailing requests that he gets. Chris Atwood stated, "I had Paul come out to detail my wife's Honda Pilot for our anniversary. Considering we have 3 kids and a dog that we took on a cross-country trip in this vehicle, to say it needed some TLC is an understatement. The difference between before and after was amazing. My wife was thrilled and there was an amazing amount of work that was put into it. I would recommend DI auto detailing to anyone looking for quality work and attention to detail. I will be using them again."
It was mentioned by the company owner that he never considers any interior detailing job to be too extreme. He also claims that he is always prepared to deal with pet hair cleanup and that the top-of-the-line cleaning products he uses do a great job of eliminating even the strongest odors. It's also no secret, as his clients can attest to, that looking showroom new is the standard that the company shoots for every time they do interior or exterior mobile detailing Phoenix services.
Travis Dyer, proclaimed, "I called Paul to detail my Mercedes for a lease return, and the car looked amazing. I think it looks better now than when we bought it brand new. He also tinted the windows on my new Mercedes. I highly recommended him!"
Bagorio went on to talk about how auto detailing is more than just a means of generating a nice income for him. He likes to refer to it as a labor of love that has turned into more of an art form for him over the years. This is why he takes great pride in keeping up with the latest trends in car, truck, and SUV detailing and also making himself aware of which auto detailing products have become the most popular for professionals like him to use.
He also mentioned that some of his favorite auto detailing and window tinting jobs are when he has to take special steps for someone who is using his services to surprise a significant other, boss, family member, or friend with a gift. Those jobs add a little more fun to what he does, and he also likes the wow factor that they can provide when auto detailing is being gifted unbeknown to someone.
Ericka Demetree wrote, "I just had my windows tinted on my husband's BMW for his birthday present. Paul helped me keep the surprise and he came out early Sunday morning on the day of my husband's b-day party to tint the windows on his car. My husband was very happy and was impressed with the quality of the work. Great Job. Thanks."
The company owner says that those who want more information on, "detailing near me Phoenix" can give home a call during working hours no matter what type of window tinting or car detailing request they have.
###
For more information about D.I. Auto Care, contact the company here:

D.I. Auto Care
Paul Bagorio
4802331529
paul@CarDetailingPhoenix.com
D.I. Auto Care
4747 E Elliot Rd
Phoenix, AZ 85044
Phone: (480) 233-1529